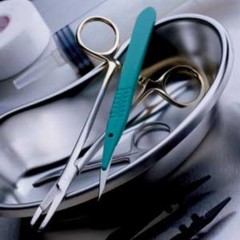 Hymenoplasty is the surgical reconstruction of the hymen in a woman to revert her back to the virgin state after her hymen has ruptured. The hymen is a ring like skin membrane in a girl's vagina and its rupture signifies the end of her virginity status. Virginity is a prized possession in several countries of the world. The honor of a girl, her family and even her community depends on her hymen remaining intact before marriage. And its rupture followed by a little bleeding is proof of her virginity. Otherwise she is considered unfit and sinful. There are several races and communities for whom virginity is a prized possession, lost only through marriage and the sexual act after that.




This operation can be done months or years after a women losses her virginity. A specialized Gynecologist performs hymenoplasty.
The technique is called hymenoplasty operation.

Hymenoplasty goal is to restore the hymen as a state before the tear. Usually done for reasons of moral, cultural or social.
Hymenoplasty including minor surgery. In general it can be done in less than an hour, depending on the degree of difficulty. Usually performed under local anesthesia or general anesthesia if necessary and can be done as an outpatient / day-care.

There are two kinds of techniques hymenoplasty operations, namely.

1. Hymen Repair or Hymenorrhaphy :- For short term result , done 7-10 days before marriage. Simple hymen repair is also done in two ways. First hymen repair surgery is based on suture approximation of hymen tags or remnants (Hymenorrhaphy) which cuts through with force of penetration causing some bleeding. Stitches dissolve after 2-3 weeks and hymen remnants again become separate like before surgery. we don't do such hymen repair.In second type of hymen repair (our own technique of hymen repair) surgery we are doing formal hymen repair, if it gets sufficient time it heals to gives you natural hymen, if not it serves its purpose and over. Next most important point in hymen repair surgery is use of invisible sutures otherwise detection of sutures by your partners is a new trouble. We use micro-surgical technique for Hymen repair or Hymenoplasty.

2. Hymenoplasty for Natural Looking Hymen : Hymenoplasty or laser permanent reconstruction hymenoplasty or Hymenplasty, should be done at least 3-4 weeks before marriage, or as early as possible. After proper healing hymen looks, feels and behaves like natural hymen (means breaks & bleeds with penetration with no evidence of hymenoplasty surgery). Its a common misconception that hymen never heals so you are bound to rely upon sutures (stitches - as in hymenorrhaphy) , its not true, it heals well with proper Hymenoplasty surgery and if given proper time and care. Surgical time ( 30-40 minutes ), recovery time (few hours- may be little pain or discomfort ) and rest (Not absolute bed rest) - (1-2 hours), all are same. With our advanced Hymenoplasty technique only you need to get it done at least 3-4 weeks, best is 6 weeks, before marriage and don't pull pussy lips apart for at least three weeks.
This Hymenoplasty is our own development and resultant Hymen you may maintain for whole life if you want. Idea behind this Hymenoplasty surgery is to bring confidence in you and bring back happiness in your life.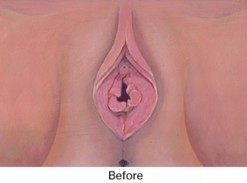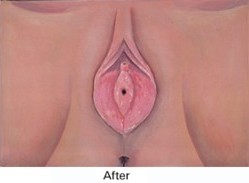 Both Hymenorrhaphy & Hymenoplasty we are doing under anesthesia , hymen repair clinic in istanbul , operative time is 35-40 minutes, discharge from hospital after a one hour. You may walk normally, climb stairs gently , only straining and vigorous activity should be avoided.
The risks associated with hymenoplasty surgery are minimal. When they occur, they are usually temporary. Good hygiene is important to decrease the risks of infection. Taking a shower everyday is highly recommended. Swelling of the vulva and discomfort will disappear in the few days following the surgery. Tylenol will help you with pain control following the surgery.